Nothing screams "Kenya" like the Ugali. It is paraded as a national meal and indeed deserves the title. From saving the lives of the simple nuclear family to making appearances at weddings and international restaurants, the Ugali has carved a niche for itself.
Have you been wondering how to make this internationally acclaimed stomach-worthy meal? You've come to the right place. In this article, we'll journey through the essentials of the ugali that are worth eating. At the end of this reading, you should be able to make the ugali like you were born with the recipe.
What are the Ingredients for the Ugali?
Ugali is a product of maize flour, a pinch of salt (optional), and water. While corn flour is the most popular for the ugali, different cultures have used millet or sorghum, sometimes mixed with cassava. The ugali may be white or yellow depending on the corn used; the popular variant is the white maize, but yellow corn still makes for a good ugali.
How to Make the Ugali
There are different ways to arrive at our destination: a mound of ugali sitting comfortably on a plate. All these paths have a common feature – the awareness that the ugali that will go down well should be free from unsightly clumps.
Method 1
The preferred method…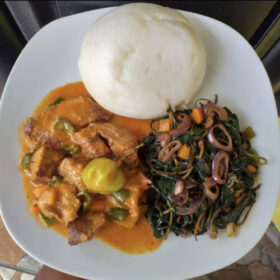 Ugali (Corn Fufu)
Nothing screams "Kenya" like the Ugali. It is paraded as a national meal and indeed deserves the title.
Ingredients
1

cup

maize flour

(250ml)

2

cups

water

1

tbsp

Salt

(optional)
These measurements will guide you if you're a first-timer in the Ugali-making business. As you gain expertise in this field of endeavor (smiles), you'll know just how much of everything to add for the number of mouths you want to feed.
If you choose to use a giant cup or a smaller cup, make sure you stick to the measurement. These measurements will help you avoid adding water or extra maize flour during the cooking process.
Pour the water into the pot used to make the Ugali and allow it to boil.
Pour the already measured maize flour into the pot of boiling water and stir with a whisk until all the lumps are smoothened out.
When you're sure, the whisk has helped you break up all the clumps, and you have a smooth thick paste, put the whisk aside and take up a wooden spatula.
Use the spatula to stir and turn the already-formed ugali. The stirring and turning ensure that every part of the Ugali is touched by heat.
After stirring and turning for a while, cover your pot and allow the ugali to cook for about two to three (2 -3) minutes on low heat.
Continue to stir for about five to seven (5 – 7) minutes until the consistency is exactly as you want.
Bring it down from the cooker. Serve your ugali with vegetables, sauce, meat, etc.
Additional Info:
If you notice that clumps survived the whisk, you might use your spatula to press them to the pot's side and break them before stirring and turning your ugali.
If you intend to add salt to your ugali, it is wise to add it to the maize flour before pouring it into the boiled water.
Method 2
There are no specific measurements for this method. This method is not for the beginner but for the experienced who have had their fair share of victories and losses at the ugali-making quest.
Pour as much water as you want into the pot and allow it to boil.
Simultaneously pour and stir your maize flour with a wooden spatula until you reach the quantity and consistency you desire for your ugali.
Repeat the processes in numbers 4 – 8 of Method 1.
Additional Info:
If you consider the ugali too soft while stirring, go ahead and add some maize flour to what is already in the pot and stir until it is smooth.
If you consider the ugali too thick, you can add water in small quantities until you get the consistency you desire.
Method 3
Using whatever measurements you desire, put your maize flour into a pot of water and stir till all the lumps are broken and what you have is smooth.
Place the pot and contents on the cooker and stir with a wooden spatula until the thickness sets in.
Work your way through the ugali with your wooden spatula until you are sure that no lumps make it to the journey's end.
Continue with steps 4 – 8 of method 1.
Any of these three methods will get you a nice serving of ugali. It just might be time to put yourself to the test.
What Factors Should be considered for the Ugali-making Process?
Anything could go wrong on the way to a nice plate of Ugali. But not to worry, we've got you covered. You will have a nice serving of ugali if you:
Ensure that your maize flour is well processed and sieved. This will take away plenty of battling lumps during the ugali-making process.
Use a wooden spatula for stirring and turning. The ugali scene is no place for metal spoons.
Use a non-stick pot. This will ensure that most of the ugali is not offered as a burnt sacrifice before the journey's end.
These three tips should get you off to a good start. You'll discover valuable life lessons along the way.
What can Ugali be eaten with?
Stews and soups of different sorts have been known to accompany the ugali on its journey to the stomach. You will be happy if your ugali is in the company of vegetables, meat, fish, and tea. The deciding factor will always be personal preferences.
Storage
You can store your Ugali for 3 – 5 days in the refrigerator. All you need to do is put them into airtight containers. If you put them in the freezer, they can last as long as four months and above.
Reheating
If you don't have a microwave, you can reheat Ugali in a pan. Cut your ugali into medium sizes, heat your pan and add a little oil to it then, put the Ugali you have cut into the pan and heat it for 7 – 10 minutes. Please make sure you turn them around so every side cooks up properly.
If you're using a microwave, heat your cut pieces at 600watts for 3 – 4 minutes.